For us, our firewood is a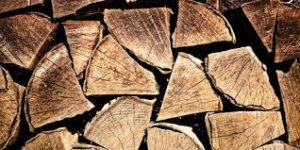 s important as the ingredients we cook on it. We either use whole dried logs or smaller chunks of less common woods which we would struggle to source sustainable whole logs.
We use a range of different woods – its worth taking some time and experimenting with different wood combinations until you find a blend you enjoy.
The two types of wood you should use are fruitwood and hardwood. Avoid using softwood as it they have a higher resin content and can taint your food giving off bitter flavours.
Before selecting your wood to need to ensure its dry. This is important to ensure you are going to be cooking cleanly and efficiently. If the wood is wet you'll struggle to reach high temperatures and the wood which cook 'dirty' which will taint your food. 
Apple

Applewood is common and a great all rounder. It is not as strong as some other woods and gently releases a slight sweetness that you should be able to taste in whatever your cooking over the wood.
Beech
A mild wood making it another great all rounder. Particularly good all meat and seafood
Cherry
Cherry wood produces a mild, fruity, sweet smoke which is particularly good with poultry. Cherry can add a slight pink taint to food.
Hickory
Hickory is a strong flavour which is often described as 'bacony' and goes particularly well with ribs and pulled pork. Hickory is not common to find logs in the UK but you can find chunks and chips..
Oak

Oak is stronger then the apple and cherry woods but not as intense as hickory. Oak also makes a great starting wood which you can compliment with lighter fruitwoods such as cherry.
Pecan
Difficult to find in large quantities in the UK. Pecan is one of the stronger fruitwoods but not as strong as hickory. The flavour is well rounded with a touch of sweetness and a slight nuttiness.