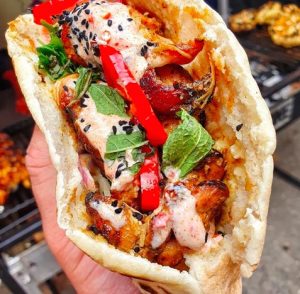 This is our famous chicken kebab that we show cased at Smokefest in Bristol back in 2019.
The warm pitta is loaded with chargrilled chicken shish and also chicken which was slowly smoked hanging over the fire.
The stuffed pitta is crammed with our hummus, pickled fennel slaw, harissa yoghurt, fresh herbs and sweet pickled red chilli.
I'm sure it will feature at many more markets.
Thank you to @thefatfoodie for the photo!